Meet Our Doctors
We are here because we care!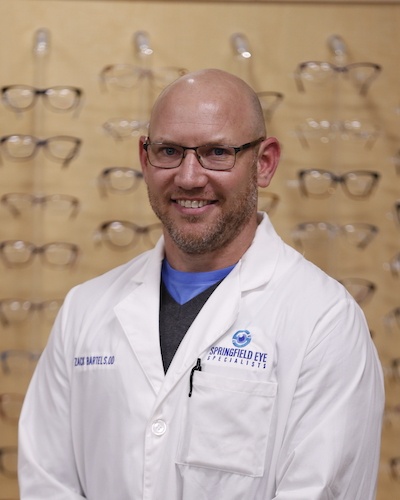 Meet William Zachery Bartels
OD, FAAO
Dr. Bartels is proud to be the husband to his best friend Britt and a father to two very active boys. His family enjoys spending time at Table Rock Lake and traveling throughout the U.S. with friends and family. His sons are very active in competitive soccer, basketball and golf youth sports.
Dr. Bartels is a graduate of Nova Southeastern University receiving a Doctor of Optometry in 2003. Dr. Bartels completed his residency in Optometry in 2004 from Westside VA Hospital (Chicago, IL) and Hines VA Hospital (Hines, IL). He began his professional career at Eye Surgeons Associates, PC in Rock Island, IL then moving his practice to Springfield, MO serving patients at Mercy Eye Specialists and now found his home as partner at Springfield Eye Specialists, LLC.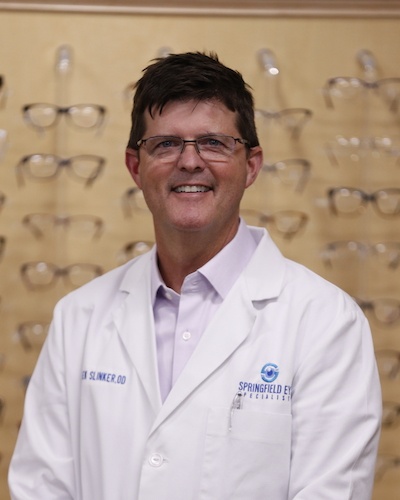 Meet Robert Derek Slinker
OD
Dr. Slinker is married to his beautiful wife Diane and a proud father of two very successful daughters. His eldest is a teacher in Joplin and his youngest a CPA here in Springfield.
Dr. Slinker has practiced optometry exclusively in Springfield, MO for more than 30 years through Mercy Eye Specialists and now Springfield Eye Specialists. He graduated with honors from University of Missouri St Louis – School of Optometry in 1990. Dr. Slinker serves his patients at the Smith Glynn Callaway Clinic as a partner at Springfield Eye Specialists and continues to be a proud provider of the Mercy Network.
"Dr. Bartels really listened to my symptoms and concerns and was very thoughtful when discussing my issues. He was quick to change my medication and address my eye problem. And he told me how the medication was going to work and what to be aware of with the medication change. It was a pleasant experience even though eye stuff kinda freaks me out, ha. Thanks for asking, happy holidays."
"Dr. Bartels is very easy to talk to and he always has a very caring demeanor. He relates how knowledge of eye health in a way that it"s easy to understand. He never seems to be in a hurry and always takes as much time as needed to answer all questions."
"I have been seeing Dr.Slinker for several years now and have learned several important things about my eyes. Every visit has been informative and pleasant. It's difficult to say any thing was outstanding because it's always topnotch. I appreciate everyone that's helped me."