YOUR SIGHT FOR LIFE
At Springfield Eye Specialists, we are dedicated to putting thorough patient care first. Our doctors have more than 50 years combined experience and the latest in top-of-the line technology. This allows us to offer more in-depth and better care for your eyes.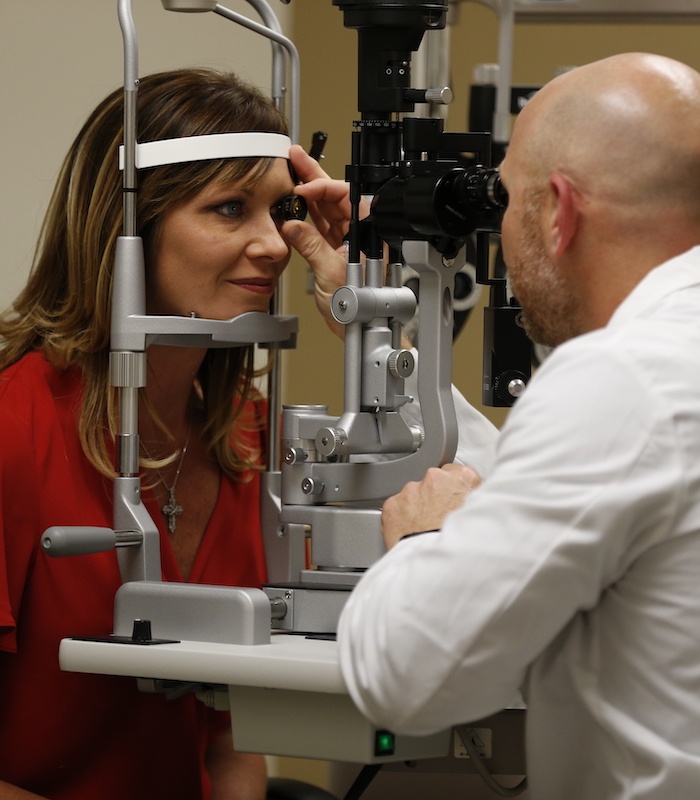 Welcome to Springfield Eye Specialists
The Springfield Eye Specialists team is committed to providing patient care that exceeds expectations. Our mission is to provide our patients with the tools of prevention, innovative medical care, and personal support from infancy to your golden years; we truly strive to protect YOUR SIGHT FOR LIFE. We believe in providing this care in a friendly and professional manner—our patients should always leave our offices feeling cared for and appreciated.
EXPERT DOCTORS
Dr. Slinker and Dr. Bartels have over 50 years of combined experience serving as your optometrists of choice and are qualified to help guide you through any eye-related medical issue.
STATE OF THE ART
Springfield Eyes utilizes industry leading technology making sure that you receive the best and most advanced care available.
EYE EXAMS
It's important to make sure that your eyes are taken care of. That's why we offer comprehensive eye exams to make sure that your eyes stay healthy.
Tips from Your Eye Doctor
Advice for young kids and their parents!
Kids can pass vision tests and screenings even with large amounts of refracture error. Dilated eye exams are important to determine total refracture error and need for glasses. Bring yourself and your children in for routine vision checks with a licensed optometrist to make sure nothing is being overlooked.
What every adult should know about their eyes!
Blue light emitted by smart devices and computers can cause eye strain and fatigue. Blue light filters in glasses greatly minimize strain, fatigue and help prevent future eye problems. Even if you don't wear glasses outside of the office, come by and we'll get you set up with blue-filtered glasses to prevent your need for prescription eyewear in the future.
Taking care of your eyes as you age!
Incidence of glaucoma, cataracts, and macular degeneration increase as we age. This is why it's important to have your vision checked regularly to insure the safety of you and others as your eyes age.
Our Doctors
Dr. Slinker and Dr. Bartels have over 50 years of combined experience and commit to guide you and your family through preventative practices, diagnosis and eye care solutions.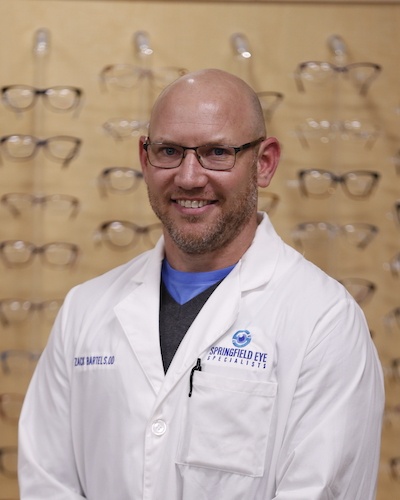 William Zachery Bartels
Optometrist, FAAO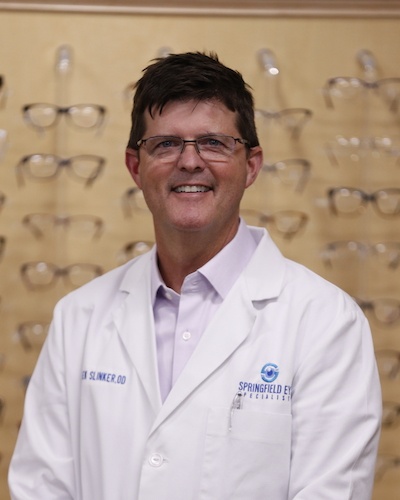 Robert Derek Slinker
Optometrist
Eye Care For The Whole Family
Springfield Eye Specialists offers services for all ages. We also carry eyewear for children and adults.
We Are A Full Service Optometrist Practice
We know how to ensure you see better so you can live better. We offer comprehensive services—everything from basic eye exams to treatment for dry eye, glaucoma, and more.

See what others have said about us!
"Dr. Bartels is very easy to talk to and he always has a very caring demeanor. He relates how knowledge of eye health in a way that it's easy to understand. He never seems to be in a hurry and always takes as much time as needed to answer all questions."
"Dr. Bartels and his team take great care of my family! They are good people and I have referred a number of friends and family!"
"I have been seeing Dr.Slinker for several years now and have learned several important things about my eyes. Every visit has been informative and pleasant. It's difficult to say any thing was outstanding because it's always topnotch. I appreciate everyone that's helped me."